I recently led a session on "Building a Fundraising Tribe" at the Institute of Fundraising Convention and challenged the delegates with this question…which I will now pose to you….
How easily could I spot one of your fundraisers? (No….not the people on your staff with "fundraising" in their titles or job descriptions.)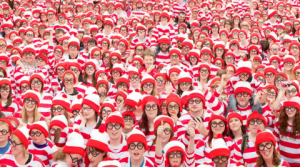 I mean those incredible volunteers who are out in their communities asking their friends, family, colleagues and sometimes total strangers for money on your behalf. They may be participating in your running, walking, swimming or cycling event. Or they may be doing crazy things at home…everything from shaving their heads to dumping ice water over their head.
Could I spot one of your fundraisers in a crowd?…in my instagram feed? …at my own dinner party? Would I know one if I saw one…or heard one? Because, if I did, there's a good chance they could inspire me to join their tribe. Your tribe.
What tools do you provide to your fundraisers to help them stand out from the crowd…to be noticed…to share your mission message?
More importantly, how do you make it possible for your fundraisers to spot (and connect with) each other…to build an even tighter, bigger and more dedicated tribe? Are they wearing something special and recognisable? Do they know a secret language? Do they call themselves by a different name?
Brands like Apple and CrossFit found ways for their customers to identify themselves, connect with each other and create tribes of dedicated fans and fanatics who happily deliver and reinforce the value of the brand to each other and their peers.
We're excited to see some charities applying tribe-building tactics to their peer-to-peer fundraising programs. (One of our favourite examples is this infographic from MuckfestMS.com illustrating "the anatomy" of one of their mud obstacle runners.)
No doubt your peer-to-peer fundraisers are some of the most passionate members of your community. So, give them an identity, a language and a message and they will gladly become some of your most dedicated (and recognisable) ambassadors…not to mention a very successful fundraising tribe.