As published in: Vakblad Fondsenwerving 17/6
When Olympic swimmer and World Champion, Maarten van der Weijden was asked at the start line of the Dam tot Damloop why he participates in the 10-mile run in support of KWF, he answered: "I was lucky to overcome leukaemia thanks to a treatment funded by KWF. I want to make this possible for everyone." A minute later he fired the starting shot.
More and more charities are engaging the help of celebrities to support their cause and, specifically, their peer-to-peer fundraising events and campaigns. When activated correctly, celebrities can make a significant impact on the recruitment and fundraising results. Here are our recommendations on how your charity can make the most out of a partnership with a celebrity and turn their "star power" into fundraising gold.
An organic connection
When actively thinking about partnering with a celebrity, keep in mind that there should be a clear, natural connection between the celebrity and the event or program they will be supporting. An organic connection is easiest to make when the celebrity–or one of their closest friends or family members–is personally touched by a health-related issue. But these organic connections can also be made even when the celebrity is just interested in the event activity or cause.
Bridget Maasland, a Dutch TV presenter, has her own foundation–Dutchypuppy–which provides local and international charities with funds to help improve the lives of dogs. So it makes sense that Bridget (and her dog) participated in the 2014 Vier Voeters' Doggy Marathon–an international animal rights charity that uses net proceeds from the event to help stray dogs in Romania.

Caption: Bridget Maasland at the Doggy Marathon in 2014 © Mophotography
Celebrity-worthy experience
Celebrities will be attracted to an interesting, meaningful and valuable experience just like anyone else. So, you can (passively) attract celebrities to your event simply by creating a unique, amazing experience. During the event, your participants will be excited to be "rubbing elbows" with the celebrity, and any stories and photos that result will certainly help fuel your future marketing efforts.
In 2012, during the inaugural year of the Amsterdam City Swim, the now Queen Maxima showed up at the start line to swim simply because the event was unique and supported a good cause. Her participation in the event earned a great deal of media coverage which certainly helped attract more participants and celebrities in the coming years. If the water is clean enough for Maxima, then it surely is clean enough for all of us, right?

Caption: Maxima at the finish of the 2012 Amsterdam City Swim for Stichting ALS Nederland © ap
Celebrity commitment
The amount of impact a celebrity can make is directly proportional to their level of commitment. International pop singer, Mika, has partnered with Imagine for Margo–a french charity that raises funds for research in order to fight children's cancer. Once a year he goes on a trip to a beautiful beach with a group of children affected by cancer and their parents. During these weekends he offers these children distraction from the harsh reality of their daily life by singing, dancing and basically just having fun together. The photos and videos taken during these weekends are then shared with the community and used for marketing purposes. Mika also speaks about his engagement on national television, and invites people to register to the charity's annual fundraising event. In other words: He didn't become an ambassador for the cause because he was chosen to be one, but because he showed true lasting commitment.
Levels of Celebrity Participation/Engagement
We have seen how to actively and passively attract a celebrity, it is now time to discuss the ways we can engage them. There are three roles a celebrity can assume in your peer-to-peer event or program: Spokesperson, Participant and Fundraiser. The deeper their engagement, the greater the impact they will have.
Celebrity Spokesperson.As a spokesperson, the celebrity acts as your ambassador. During the marketing phase, you can ask your celebrity to help create a buzz via their personal social media. It's also a good idea to capture a written and video testimonial which can be used on the website, social media and other promotional materials. During an event, the celebrity can serve many speaking roles from the stage or start line and can be available for press interviews. Regardless of how prepared or well-spoken your celebrity may be, it's important to provide them talking points about your organisation, your mission, the event/program and how the net proceeds will be used.
The Susan G. Komen Race for the Cure in NYC does a great job of engaging Hoda Kotb in their annual breast cancer event. Hoda is a breast cancer survivor and well-known anchor of the "Today" show. For the past two years she has served as "Grand Marshall" for the Race which attracts over 13.000 walkers and runners to Central Park and raises more than $3 million for breast health and breast cancer research. In the weeks leading up to the event, Hoda promotes the Race on her personal Facebook page. During the event, she is in the spotlight, addressing the crowd from the stage, as well as posing for photographs and signing autographs for her fellow Race participants.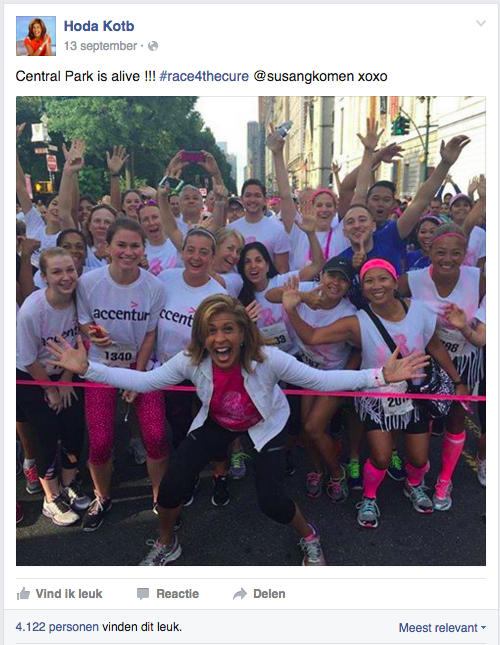 Caption: Hoda Kotb promoting Race for the cure on her Facebook page
Celebrity Participant.An even deeper way to engage a celebrity is to get them to actually participate in the event or program activity. We love to see so many celebrities like Maarten van der Weijden running alongside and supporting their favorite Dutch charities in events like the Dam tot Damloop. We also applaud Movember for getting so many celebrities each year to become "Mo Bros" and grow a moustache in November to help "change the face of men's health".
Celebrity Fundraiser.By far, the best way to engage a celebrity in your peer-to-peer event or program is to actually get them to 'lead by example" and participate as a fundraiser. One organisation that does this extremely well is charity: water. On their "Donate Your Birthday" campaign website they feature Tony Hawk, Depeche Mode and several other celebrities…all of whom have given up their birthdays to raise money for clean water projects. Each profile reveals the celebrity's favourite birthday memories, their motivation behind participating in the charity: water campaign, and provides a link to their personal campaign webpage where you can see their real-time fundraising progress. For example, Matt Hasselbeck, a professional quarterback for the Indianapolis Colts used his 35th birthday to raise $10.435 for clean water projects in Ethiopia.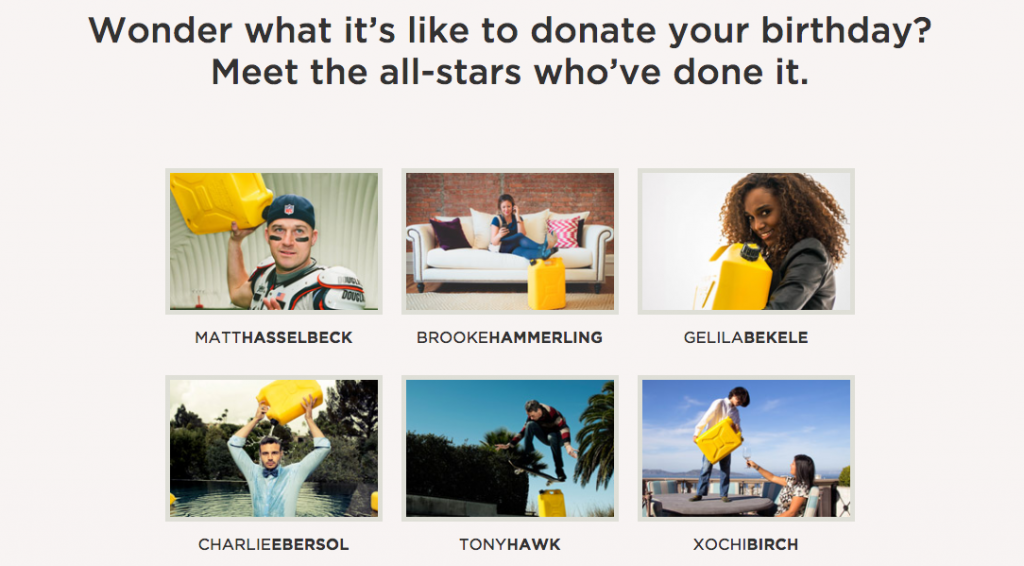 Caption: Celebrities "donate their birthday" and raise money for charity: water
Source: my.charitywater.org/birthdays/
As you can see, while celebrities aren't critical to the success of a peer-to-peer program, they can definitely help enhance the entire experience–the activity and the fundraising–by acting as a role model. So, it's worth spending the time to attract a celebrity who is passionate about your cause (or your activity) and to find ways to engage them in a meaningful way.